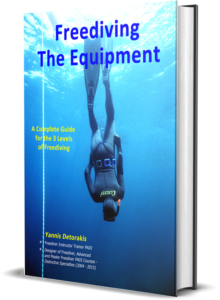 A book by Yannis Detorakis
Freediving – The Equipment is a complete guide for the three levels of a free diver training and for the instructor. The book works as a manual for everyone, introducing all readers to the secrets of free diving equipment. Every part of the free diver's equipment is described according to the materials used for its development and the functions required by its users.
Written in a very simple and comprehensive language, the book covers every aspect of freediving equipment, providing valuable knowledge and advice. Special illustrations, sketches and underwater photos cover all subjects of how every piece of the equipment should work underwater.
The reader will discover how to test and choose his own freediving equipment according to some simple methods and criteria introduced for each one of the 3 levels of freediving experience.